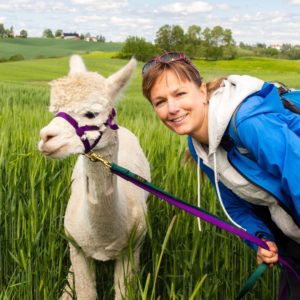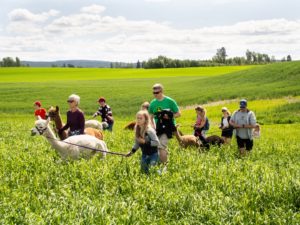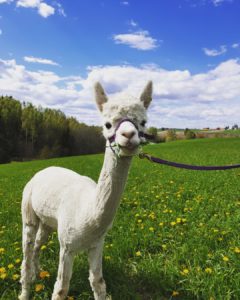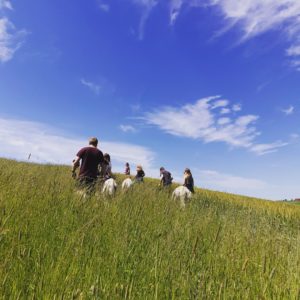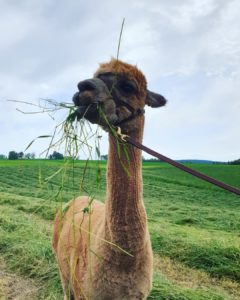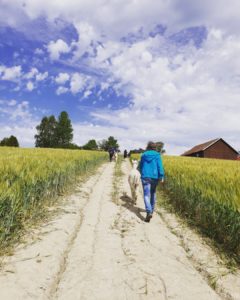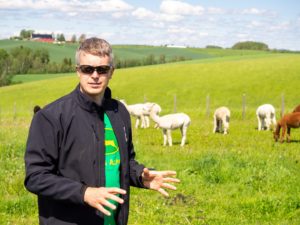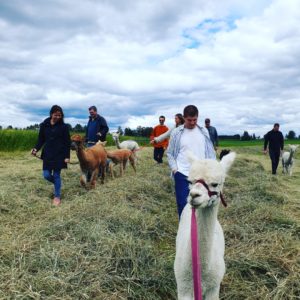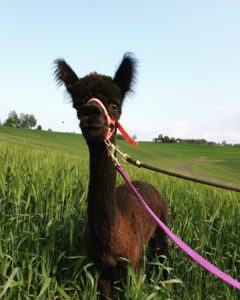 Alpaca walking
Alpaca walking is a unique experience where you get to meet, handle and have the responsibility for your very own alpaca. All while walking them in a scenic Norwegian landscape.
Expect to use about two (2) hours in total.
You will be met by your host who will take you into the alpaca shed and into their fields and let you meet the alpacas up close and personal. In the summer, we have many alpaca babies running around.. You will be taught what alpacas are, their origin, their history and of course why we have alpacas today and what we use them for (wool).
Then you will help out by putting halter and leads on the alpacas, before each and one is given the responsibility for one of the alpacas for the rest of the experience.
You will be able to pet the alpacas, take selfies and otherwise get a true and close connection with these very special creatures.
We will walk the alpacas on a scenic nature path in typical Norwegian landscape; fields, woods and hills – please wear clothes and footwear accordingly!
During the whole walk, your host will tell and talk about the alpacas adapted to your liking.
We can adapt to visitors special needs.
Our camp site in the woods is available for visitors, bondfire (if season), tables and toilet are available. How about bringing your own lunch, and enjoy a special time together with the alpacas?
Please note that we need to take the weather into account as this is an outdoor activity.
About us
We are Alexandra Martinsen and Bjørn Brændshøi, two passionate alpaca breeders with more than 15 years of experience.
We breed alpacas for their luxurious wool and also for their mild, gentle presence which makes them perfect for human interaction.
Alexandra is a teacher and she uses the alpacas in her work with children. Bjørn is an engineer and focuses on breeding technique, farm management and activities that combines the alpacas with humans.
Our goal is to let people experience the wonderful alpaca up close and personal and we love seing sparkles in our visitors eyes when they do!
For everyone
Alpaca walking is an activity that suits everyone, as long as you can walk a relatively easy path in the farm lands (expect some up- and downhill). The alpacas are never in a hurry, meaning that we're not walking very far!
The alpacas are mild, curious and friendly. They are not agressive and never bite or anything alike.
We can adapt to visitors needs, please let us know.
What to bring
Clothes and footwear that is suitable for hiking in the woods, according to weather.
If it's warm, please bring a water bottle.
If it's cold, please wear warm clothes.
Always wear proper footwear (hiking boots or similar).
Remember that we will be outside the whole time.
We do have benches and tables to rest at, and visitors can use them as they like. How about bringing your own lunch that you can have before or after the alpaca walk?
Contact us
Email: post@alpakkavandring.no
Mobile: +47 41300878
Address: Bingenvegen 35, 1923 Sørum, Norway
Train station: Sørumsand
Bus station: Sørum Skole
How to get here
Using car
Approximately 40 mins from Oslo Central.
Using public transport
Train to Sørumsand or Frogner train station, click here for journey planner
From one of those two train stations, take the bus to Sørum Skole (click here for journey planner), then walk from there (10 mins).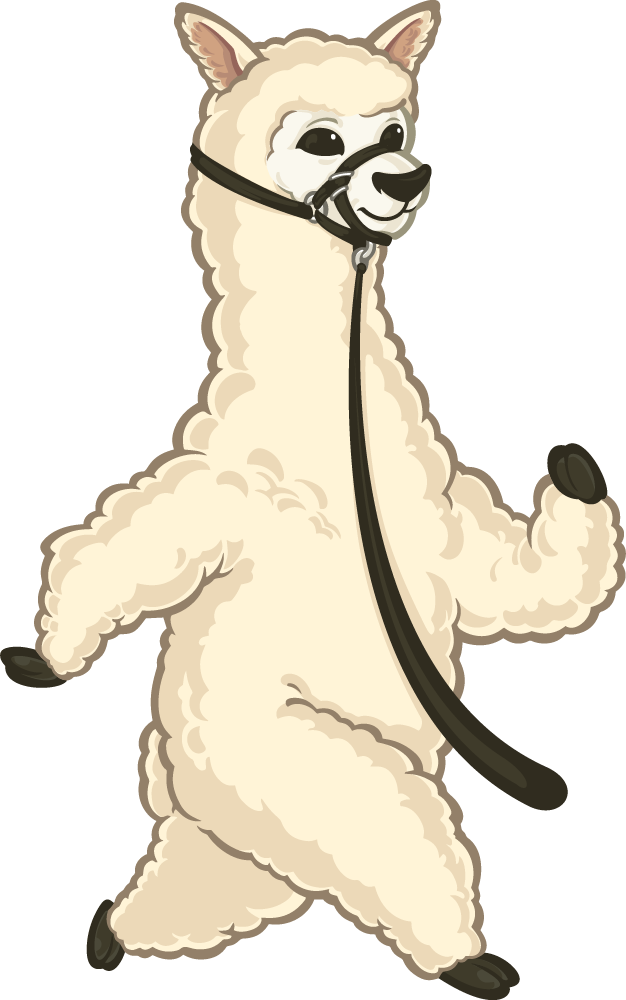 Pricing
Participant with alpaca – NOK 395
Participant without alpaca – NOK 195
Payment options: Card, cash or PayPal
Booking
You need to email/phone us to book alpaca walking, please have a desired day (or days) available when contacting us.
Terms
The welfare of our alpacas will be prioritized. Visitors have to follow the guides instructions and rules of alpaca engagement. The following terms apply.
All participants who walk an alpaca must be atleast 12 years old (younger children can walk an alpaca together with an adult (18+)) 
Participants younger than 18 years have to be accompanied by adults (18+)
Dogs cannot attend to the alpaca walk
If the weather forecast show too much rain 24h in advance, we reserve our right to find another date
Dress according to hiking and weather – it is the participants responsibility to dress properly
We strive to have a good biosecurity – boots/clothes that have been on other farms should not be worn at our farm (or they need to be disinfected on site)
Animal welfare is an absolute – participants have to follow the hosts instructions and guidelines on how to handle the alpacas